Commencement 2023
Commencement is a momentous occasion when we at Covenant join our graduates and their families and friends in celebrating the accomplishments of these last years, thanking God for His grace and provision, and looking ahead to His purposes in the lives of our graduates. At Covenant, we earnestly believe that the One "who began a good work in you will carry it on to completion until the day of Christ Jesus."
Commencement will be held at the Chattanooga Convention Center in downtown Chattanooga. Below you will find information on our upcoming commencement exercises and related events. We look forward to families and friends joining us for this celebration!
Commencement Speaker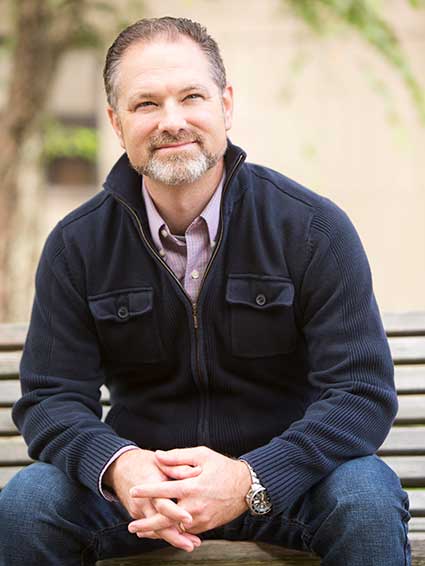 We are pleased to welcome our own Dr. Kelly M. Kapic, professor of theological studies, as the speaker for our 68th annual commencement. With a PhD in Systematic and Historical Theology from King's College University of London, Dr. Kapic has written or edited over fifteen books. His new book You're Only Human: How Your Limits Reflect God's Design and Why that's Good News (Brazos, 2022) has won a number of awards, including Christianity Today's Book of the Year award in the category of Theology (Popular) and The Southwestern Journal of Theology's award in Applied Theology/Ethics. His earlier work includes Embodied Hope: A Theological Meditation on Pain and Suffering, which also won the Christianity Today book of the year award in the area of Theology and Ethics and World Magazine's Short List award for Accessible Theology Book of the year. He also recently completed two volumes with the economist Brian Fikkert called Becoming Whole: Why the Opposite of Poverty isn't the American Dream and A Field Guide to Becoming Whole: Principles for Poverty Alleviation Ministries. In 2014 Kelly received a Templeton Grant to be part of The Center for Christian Thought studying the topic of Psychology and Spiritual Formation. He has served as part of the Core Research Teams for the Templeton funded studies called "Project Amazing Grace''and "Christian Meaning-Making, Suffering and the Flourishing Life," and currently he is working with a Templeton team researching the practice of lament.
Celebration Concert
Thursday, May 4, 2023, 7:00 p.m
Dora Maclellan Brown Memorial Chapel
Covenant College
The concert is free and open to the public.
Presidential Reception & Alumni Induction
Friday, May 5, 2023, 7:00-9:00 p.m.
Brock Lawn
Covenant College
Graduating seniors and their families are invited for fellowship and hors d'oeuvres. President Halvorson's remarks will begin at 7:30. Graduating seniors will receive their graduation mugs and learn more about the Alumni Office. In the event of rain, the reception will be held in the Great Hall. Invitations to graduating seniors are forthcoming. Shuttle services will be available during this event.
Graduate School of Education Luncheon
Saturday, May 6, 2023, 11:30 am in Rooms 13 and 14 of the Chattanooga Convention Center
Graduate students and their families are invited to this luncheon with the graduate faculty. Invitations will be sent to graduates.
Covenant College's 68th Commencement
Saturday, May 6, 2023, 3:00 p.m.
Chattanooga Convention Center
1 Carter Street
Chattanooga, TN 37402
Tickets are not required to attend commencement.
Event Parking: There will be $8.00 parking available in the parking garage shared by the Convention Center and the Marriott Hotel. The entrance to the parking garage is off of Carter Street, between the hotel and convention center. The hotel address is 2 Carter Plaza, Chattanooga, TN 37402. There will also be pay-by-meter parking on the surrounding streets.
Click here for hotel and bed & breakfast recommendations.
Commencement will be livestreamed at covenant.edu/stream.
Commencement Photography
Graduates participating in Covenant's 68th Commencement will be photographed by GradImages. Once pictures are available, they can be ordered online, by phone, or by mail. GradImages can be contacted at 800.261.2576 or online. Graduates who use the pre-event registration option will be notified when proofs are ready to view.
Undergraduate Departments, Majors, Minors, Certificates, Concentrations, and Programs
Arts Administration
Entrepreneurship
Environmental Stewardship & Sustainability
Journalism and Society
Medical Ethics Consultation
Neuroscience
Teaching English to Speakers of Other Languages (TESOL)
Art, 2-D Concentration
Art, 3-D Concentration
Art, Art History Concentration
Art, Graphic Design Concentration
Art, Photography Concentration
Art minor
Art History minor
Biblical & Theological Studies
Biblical & Theological Studies, Missions Concentration
Biblical & Theological Studies minor
Biblical Languages minor
History of Christianity minor
Missions minor
Youth Ministry minor
Biology, Biomedical Concentration
Biology, Environmental Concentration
Biology, General
Biology, Health Professions Concentration
Biology minor
Business
Business, Accounting Concentration
Business, Finance Concentration
Business, Marketing Concentration
Sport Management
Business minor
Sport Management minor
Chemistry, Biochemistry Concentration
Chemistry, General
Biochemistry minor
Chemistry minor
Computer Science
Computer Science minor
Community Development
Economics
Community Development minor
Economics minor
Education Studies
Elementary Education (P-5)
Secondary Education Certifications through MAT program
Education minor
Natural Science, Pre-Engineering Studies Concentration
English
English, Writing Concentration
English minor
Writing minor
History
History, Art History Concentration
Political Science
International Studies
History minor
Political Science minor
Interdisciplinary Studies with Concentrations
Mathematics
Mathematics minor
Music, Church Music Concentration
Music, Creative Studies Concentration
Music, General Music Concentration
Music, Instrumental Performance Concentration
Music, Music Education (Pre-MAT) Concentration
Music, Organ Performance Concentration
Music, Piano Pedagogy Concentration
Music, Piano Performance Concentration
Music, Vocal Performance Concentration
Music minor
Philosophy
Philosophy minor
Pre-Law Studies
Pre-Medical Studies
Pre-Nursing Studies
Pre-Physical Therapy Studies
Psychology
Psychology minor
Sociology
Sociology, Family Studies & Social Work Concentration
Sociology minor
French
Spanish
French minor
Spanish minor