Parents Council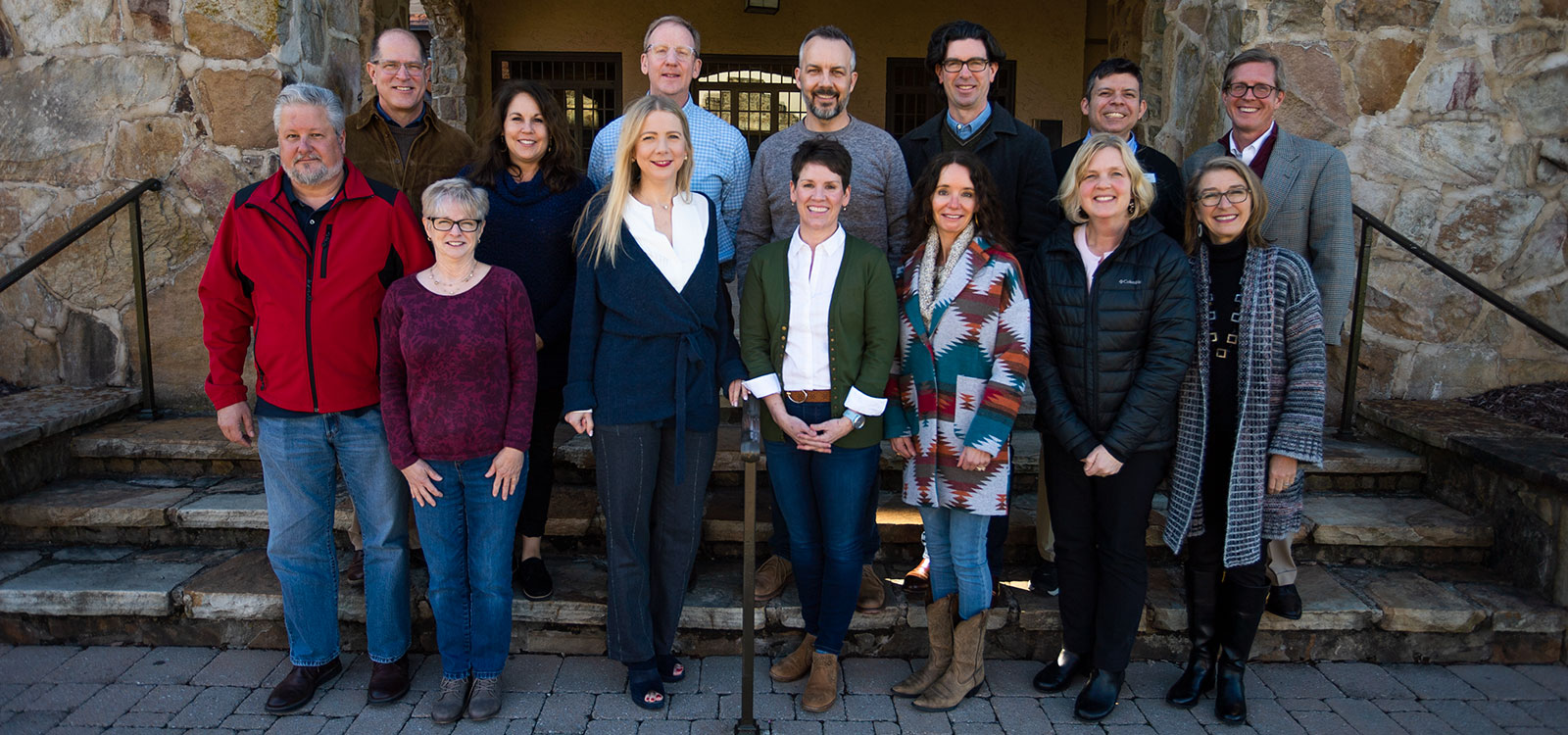 Pictured from left to right (Back Row): Paul Moore, Becky Greninger, Phil Greninger, Michael Radmacher, Campbell Metcalfe, Maurice Perry, Bob Daley (Front Row): Dale Hokrein, Nancy Hokrein, Jennifer Thompson, Kimberly Radmacher, Rebecca Metcalfe, Beth Perry, Jana Daley.
(Not Pictured: Nye and Beth Allen, Jeff and Nancy Hooker, Sandy Moore, Nathan Thompson)
The Parents Council serves a number of purposes:
We connect with the administration on important issues facing students, teachers, and administrators and provide a unique perspective from the parent's point of view.
We act as champions of Covenant College and support the college in key initiatives to move Covenant's mission forward.
We support the admissions process in a number of ways. We talk to prospective parents and students about life and academics at Covenant. We also participate in and host receptions for new/prospective students and parents throughout the year.
We act as ambassadors for Covenant College in our hometowns and regions.
We also encourage parents to support career networking and advice for students through the Covenant's Center for Calling and Career.
We support Covenant College annually and encourage other parents to give generously to Covenant.
We support Covenant College through our prayers for the students, faculty, staff, and the larger Covenant College community.
Our Parents Council has compiled a list of opportunities for parents to take advantage of while their student is enrolled at Covenant. Review their list of suggestions here.
---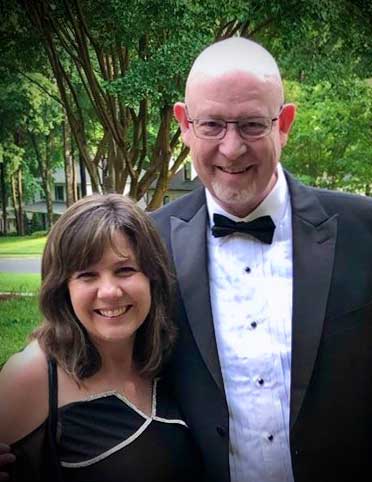 Nye and Beth Allen
Matthews, NC (near Charlotte)
Our Kids:
Nye "Caleb" (Class of 2017), BA Biology, works for Chick Fil A Corporate Operations Development program, Varsity Soccer
Mary Ashelyn "Mash" (Class of 2019), BA Psychology, JV Volleyball
Samuel Jackson "Jack" (Class of 2021), BA, Business/Finance, Varsity Soccer
Eliana Faith "Ellie" (Class of 2033), TBD
Our Jobs:
Beth: Covenant Day School
Teaches 3rd Grade - requires way more intelligence than what Nye does, resulting in eternal transformation of hearts and minds. :o)
Nye: Bank of America
Manages an Enterprise COE for Digital Transformation IT Strategy, leveraging Intelligent Process Automation, Cognitive Intelligence, and AI for the bank.
What We Love Most About Covenant:
"We really love the genuine community at Covenant. This includes the students as well as the professors and staff that spiritually, socially, and academically nurture and challenge our daughter and sons to wrestle with real life issues and concepts thru a Biblical lens. And more importantly, developing a mindset and lifestyle of investing their lives in ventures with eternal impact and importance. The relationships and memories they will build here will have a lasting impact for the rest of their lives."
---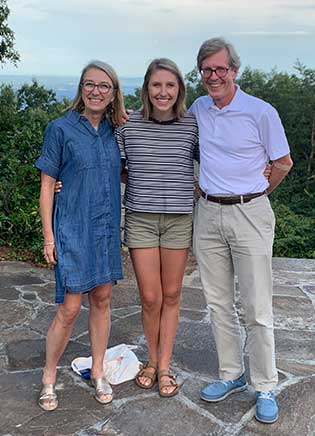 Bob and Jana Daley
Columbia, SC
Our Kids:
Elizabeth (Liz) (Class of 2023) Psychology, Founders/Carter
Our Jobs:
Jana: recovering attorney/airline gate agent/retired homeschool mom and debate coach/holistic health aficionado
Bob: attorney/federal prosecutor/runner/Sunday School teacher
---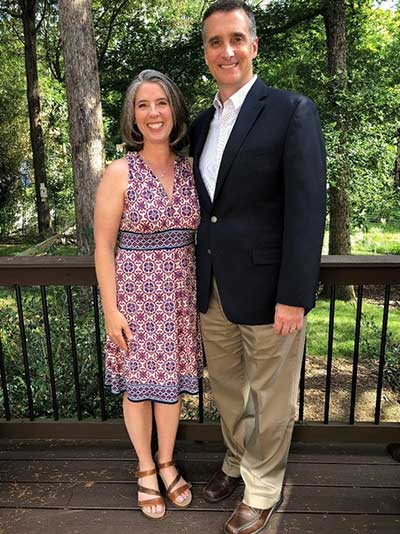 Will and Debbie Ertel
Charlotte, NC
Our Kids:
Hannah (Class of 2020), Computer Science major; Carter Hall
Elizabeth (Class of 2024), Economics major; Carter Hall
Our Jobs:
Debbie: former elementary teacher/current adult ESL teacher --enjoys walking and hiking, reading, and attempting to grow flowers
Will: Financial Planner --enjoys baseball, church ministry, and outdoor cooking
What We Love Most About Covenant:
"We love the sense of community that is promoted, the uncompromising Biblical focus in all areas, and the fact that our kids love Covenant, too."
---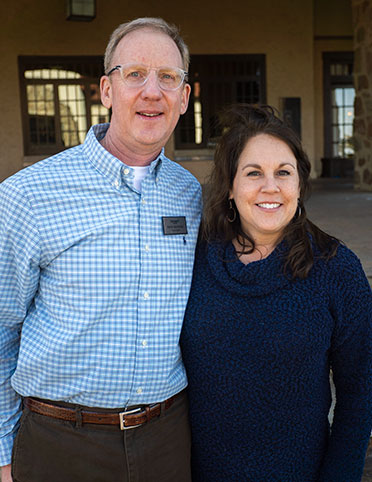 Phil and Becky Greninger (CC '90)
pagrenin@hotmail.com
becgreninger@hotmail.com
Cumming, GA (Atlanta)
Our Kids:
Andrew Pursuing a career as a First Responder
Kate (Class of 2021), Sophomore, Sociology & Community Development major, Spanish minor
Molly (Class of 2023), Elementary Education
John (Class of 2025), TBD
Our Jobs:
Becky: Teaches 1st grade at Perimeter School after spending almost 20 years at home raising children; enjoys reading suspense novels, theology, and educational books.
Phil: Cloud Solution Architect, CGI Technologies, Inc. Consult and design enterprise IT solutions using cloud-based technologies. Enjoy a little swimming, biking, and running.
What We Love Most About Covenant:
"Our fondness for Covenant began as students. We love that it is a place where students are challenged to grow not only academically, but also spiritually. We saw practically how to live a biblical worldview that emphasizes Christ's preeminence in all things. In a culture of compromise, the college has stood firmly on the foundation of biblical truth. Covenant fosters a deep sense of community; we have seen and can personally attest to the lifelong friendships that have been developed among like-minded young people."
---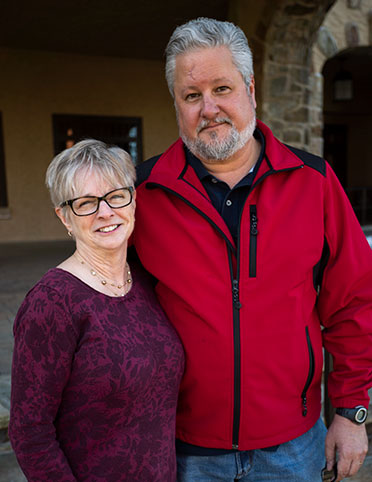 Dale and Nancy Hokrein
dhokrein@gmail.com
nhokrein@gmail.com
Tampa, FL
Our Kids:
Olivia (Class of 2021) Biology, student apartments
Evan (Class of 2023) Economics and Community Development, Brethren
Our Jobs:
Nancy: Dental/Orthodontics, reading, hiking, shell collecting, church activities
Dale: Content Strategy, Dental, Reading, Camping, Cooking, Local Church Ministry
---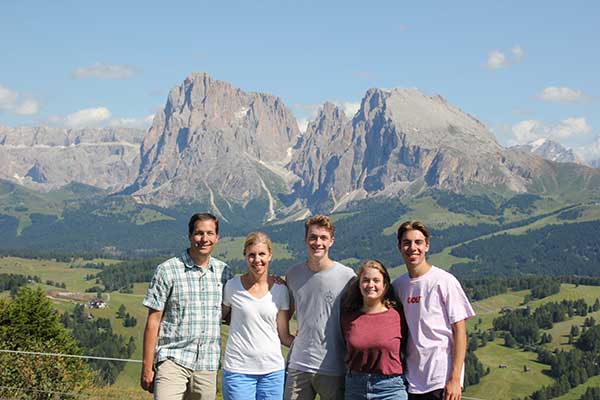 Our Jobs:
Nancy: A teacher of all sorts
She has taught public school, Christian school, homeschool, classical school, Sunday school and women's Bible study; especially loves to study and teach the Bible and to mentor young women; enjoys reading, art, traveling, the outdoors, and family.
Jeff: PCA church planter
AVID Clemson fan (Jeff and Nancy are both Clemson grads and Jeff's dad played football at Clemson), loves traveling, hiking (especially in CO and Scotland), soccer, studying theology, playing guitar/mandolin, and listening to good music.
What We Love Most About Covenant:
"The thing I say most to parents of potentially prospective students (after the money discussion) is 'Christ really is preeminent in all things' - classroom, hall life, high view of the Lord's Day, emphasis on the church- that those aren't just words on a sign, that our son is growing spiritually as well as relationally and academically."
---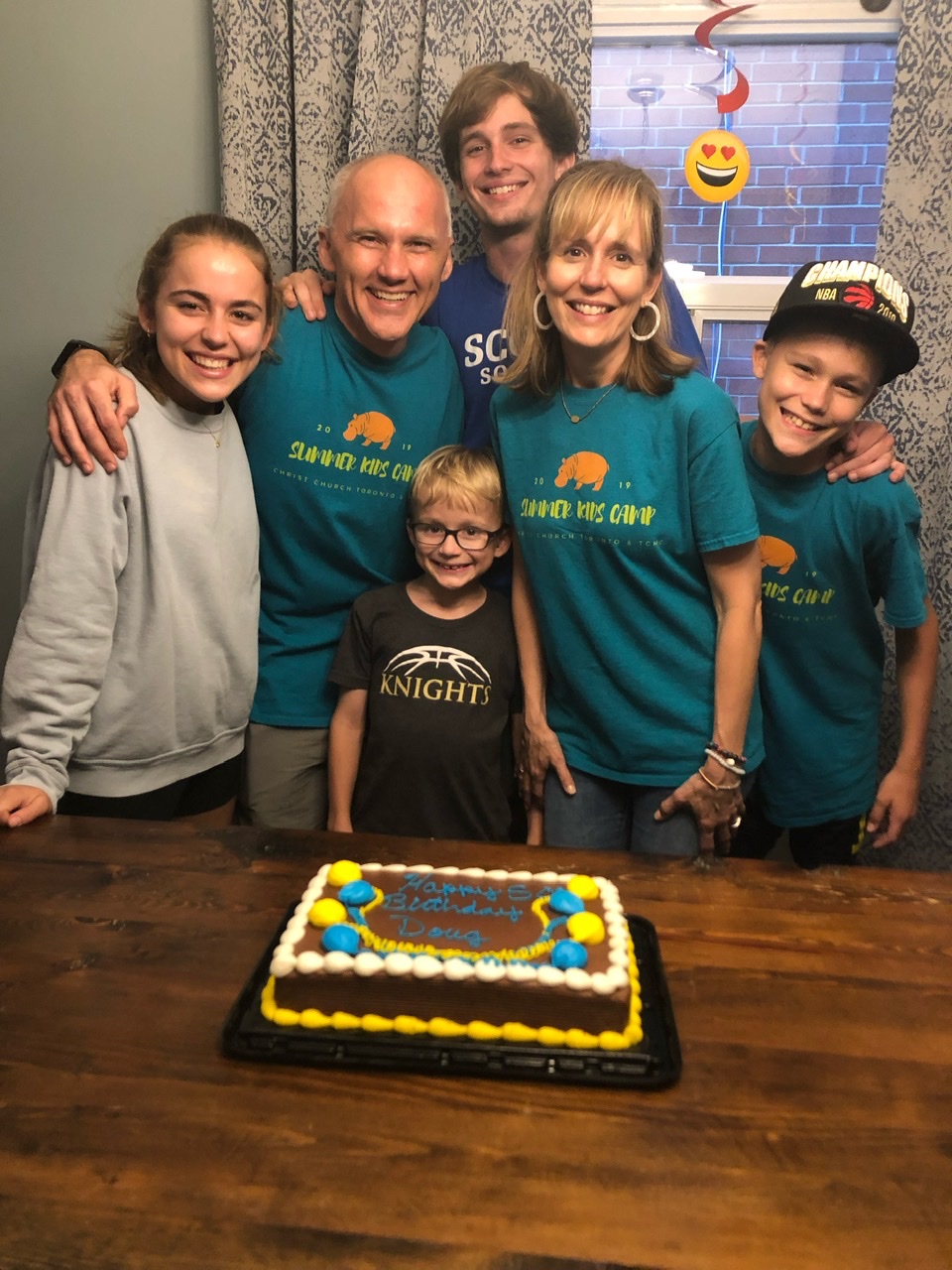 Doug and Anne Lipperd
Birmingham, AL
Our Kids:
Josh Lipperd, IDS, Sr, off campus
SK Lipperd, Elementary Education, Jr, Carter
What We Love Most About Covenant:
"Christ-centered community that seeks to prepare students with a biblical worldview."
---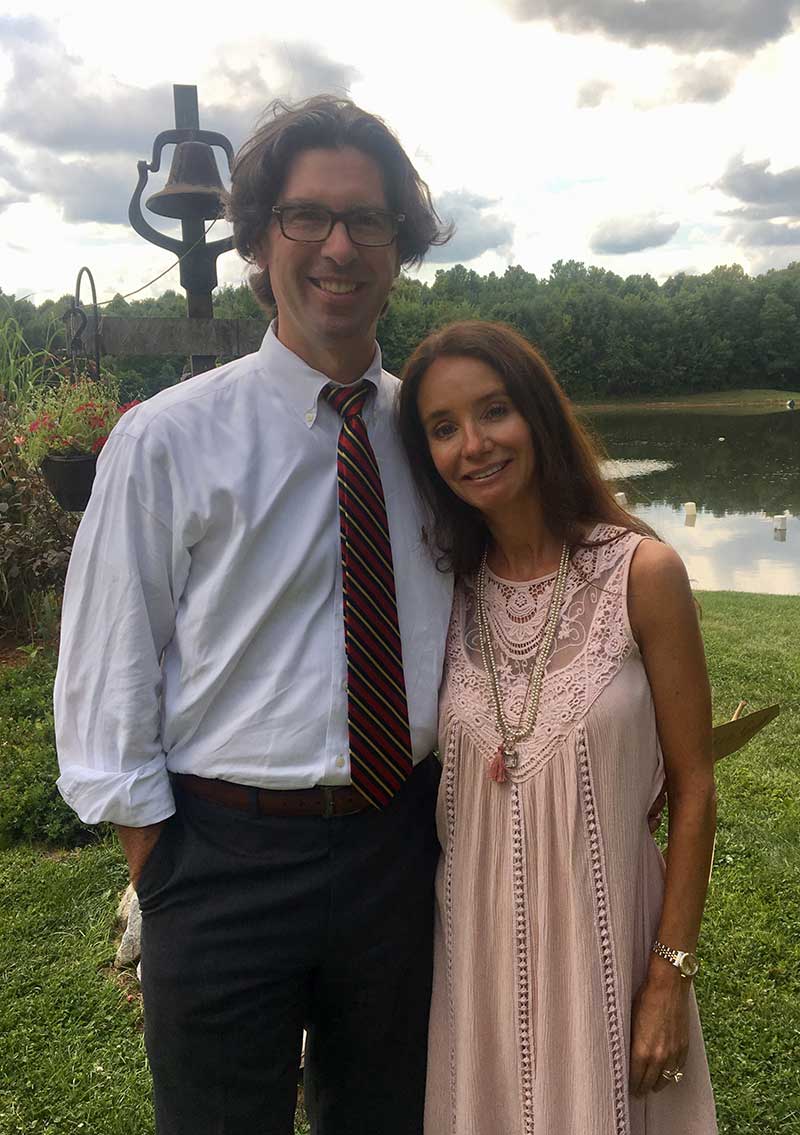 Campbell and Rebecca Metcalfe
Brentwood, TN (Nashville)
Our Kids:
Louis (Class of 2018), English; student body president; currently studying at Vanderbilt Law School
Jane (Class of 2019), Music major - pipe organ
Edward (Class of 2023), plans on majoring in Chemistry
Sara Caroline (Class of 2027), excited to see where the Lord directs her
Our Jobs:
Rebecca: Veteran homeschool mom 18 years, wife & mother
Campbell: Triangle Tire USA
VP Finance & Operations. Enjoys cycling and tending the cursed ground otherwise known as his yard
What We Love Most About Covenant:
"We appreciate how Covenant recognizes God's dominion over all things and all subjects of study. We love Covenant's holistic approach to education - development of the person spiritually, socially, and academically as opposed to a narrow focus for the sole purpose of getting a job."
---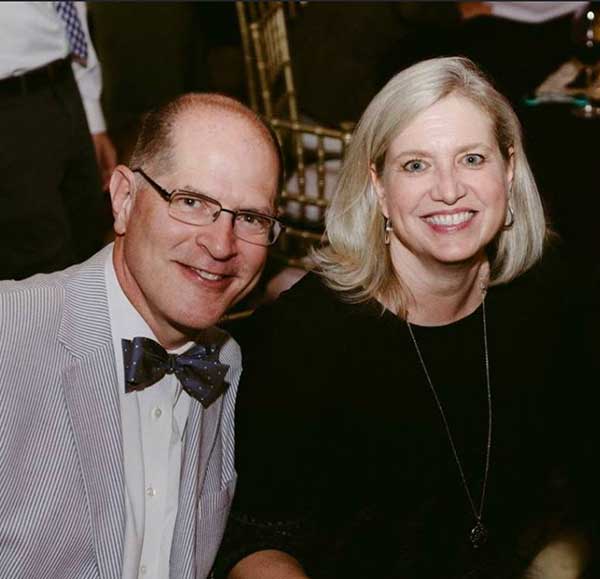 Paul and Sandy Moore
Laurens, SC
Our Kids:
Jonathan Moore '16, English, Founders, Mac, Carter, Batcave.
Samuel Moore '16, Business (Finance), Mac.
Joshua Moore '22, Business (Marketing), Mac.
Noah Moore '23, Business, Mac.
Ruthie Moore '23, Undeclared, Mac
Our Jobs:
Sandy: Homemaker
Paul: Physician
---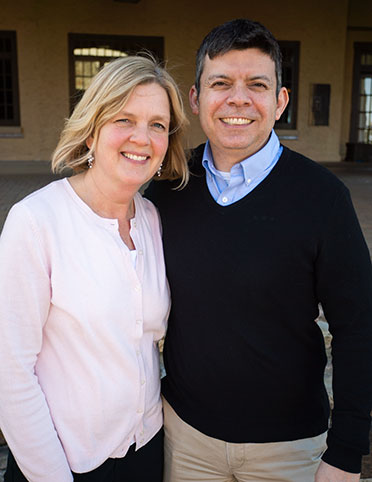 Maurice and Beth Perry
Wildwood, MO
Our Kids:
Laura (Class of 2023), Spanish major, Founders Hall, Highlands
Our Jobs:
Beth: Children's ministry coordinator
Maurice: Investment Analyst
---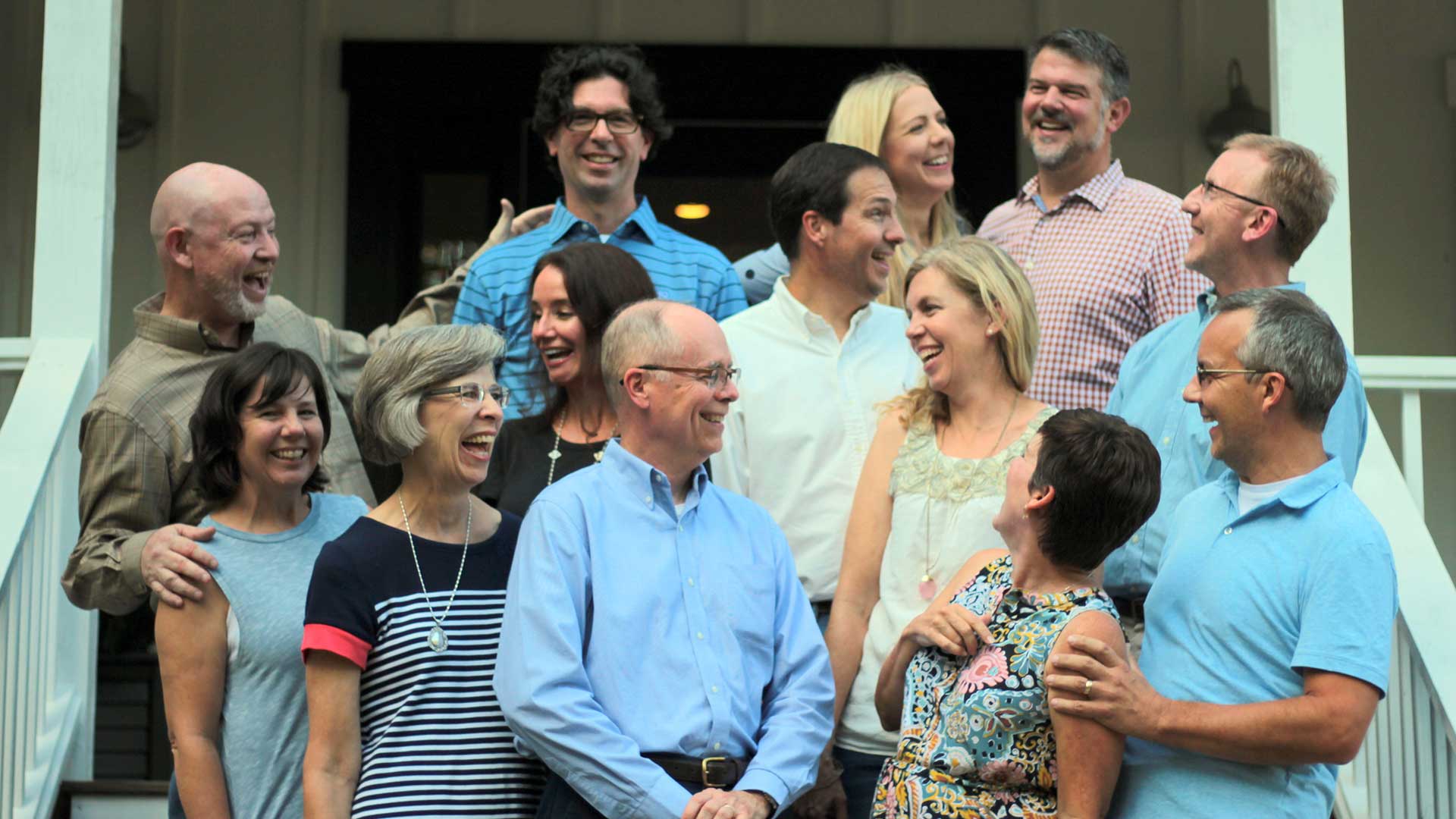 Undergraduate Departments, Majors, Minors, Certificates, Concentrations, and Programs
Arts Administration
Entrepreneurship
Environmental Stewardship & Sustainability
Journalism and Society
Medical Ethics Consultation
Neuroscience
Teaching English to Speakers of Other Languages (TESOL)
Art, 2-D Concentration
Art, 3-D Concentration
Art, Art History Concentration
Art, Graphic Design Concentration
Art, Photography Concentration
Art minor
Art History minor
Biblical & Theological Studies
Biblical & Theological Studies, Missions Concentration
Biblical & Theological Studies minor
Biblical Languages minor
History of Christianity minor
Missions minor
Youth Ministry minor
Biology, Biomedical Concentration
Biology, Environmental Concentration
Biology, General
Biology, Health Professions Concentration
Biology minor
Business
Business, Accounting Concentration
Business, Finance Concentration
Business, Marketing Concentration
Sport Management
Business minor
Sport Management minor
Chemistry, Biochemistry Concentration
Chemistry, General
Biochemistry minor
Chemistry minor
Computer Science
Computer Science minor
Community Development
Economics
Community Development minor
Economics minor
Education Studies
Elementary Education (P-5)
Secondary Education Certifications through MAT program
Education minor
Natural Science, Pre-Engineering Studies Concentration
English
English, Writing Concentration
English minor
Linguistics minor
Writing minor
History
History, Art History Concentration
Political Science
History minor
Political Science minor
Interdisciplinary Studies with Concentrations
Mathematics
Mathematics minor
Music, Church Music Concentration
Music, Creative Studies Concentration
Music, General Music Concentration
Music, Instrumental Performance Concentration
Music, Music Education (Pre-MAT) Concentration
Music, Organ Performance Concentration
Music, Piano Pedagogy Concentration
Music, Piano Performance Concentration
Music, Theory/Composition Concentration
Music, Vocal Performance Concentration
Music minor
Philosophy
Philosophy minor
Pre-Law Studies
Pre-Medical Studies
Pre-Nursing Studies
Pre-Physical Therapy Studies
Psychology
Psychology minor
Sociology
Sociology, Family Studies & Social Work Concentration
Sociology minor
French
Spanish
French minor
Spanish minor