Parents Council
The Covenant College Parents Council exists to advance the mission of the College by cultivating productive partnerships between the parents of Covenant students and the College. This group is composed of parents of current Covenant students.
---
The Parents Council serves a number of purposes:
We connect with the administration on important issues facing students, teachers, and administrators, providing a unique perspective from a current parent's point of view.
We act as champions of Covenant College and support the college in key initiatives to move Covenant's mission forward.
We support the admissions process in a number of ways. We talk to prospective parents and students about life and academics at Covenant. We also participate in and host receptions for new/prospective students and parents throughout the year as able.
We act as ambassadors for Covenant College in our hometowns and regions.
We encourage parents to support career networking and advice for current students through the Covenant's Center for Calling and Career.
We support Covenant College through annual giving, as able, and we encourage other parents to give generously to Covenant.
We uplift Covenant College through our prayers for the students, faculty, staff, and the larger Covenant College community.
Our Parents Council has compiled a list of opportunities for parents to take advantage of while their student is enrolled at Covenant. Review their list of suggestions here.
---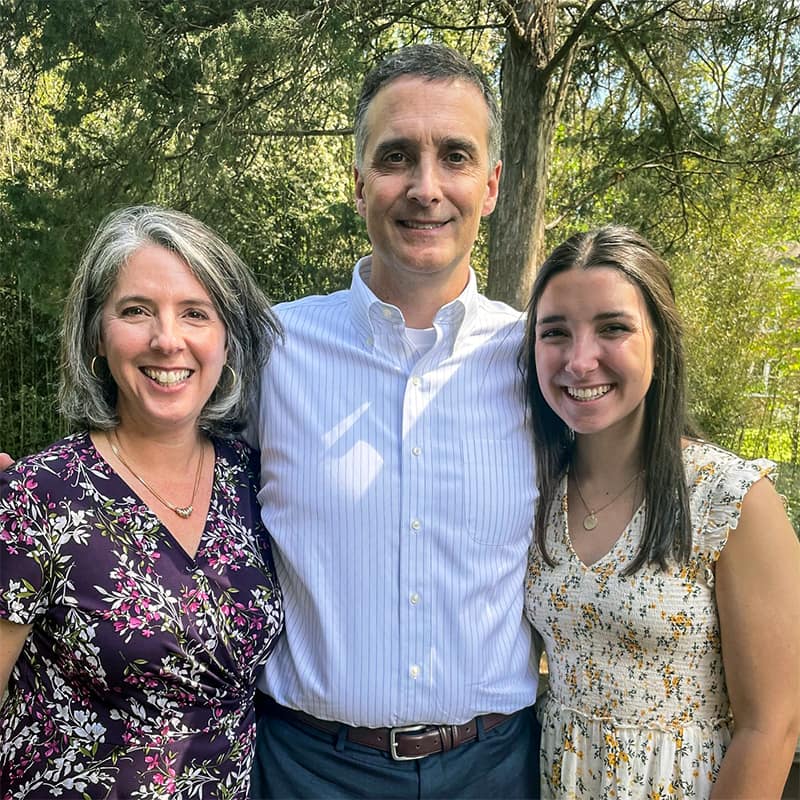 Will and Debbie ('93) Ertel
Charlotte, North Carolina
What we love Most About Covenant:
"We love the sense of community that is promoted, the uncompromising Biblical focus in all areas, and the fact that our kids love Covenant, too."
Our Kids
Hannah: (Class of 2020) Computer Science major. She played JV Soccer and lived in Carter Hall.
Leah: attended a local university.
Elizabeth: (Class of 2024) Economics major. She lived in Carter on 4th North for three years, served as an RA, and now lives off campus.
Our Jobs
Debbie: Former elementary school teacher and current adult ESL teacher. She enjoys walking and hiking, reading, and scrapbooking.
Will: Financial Planner. He enjoys baseball, church ministry, and outdoor cooking.
---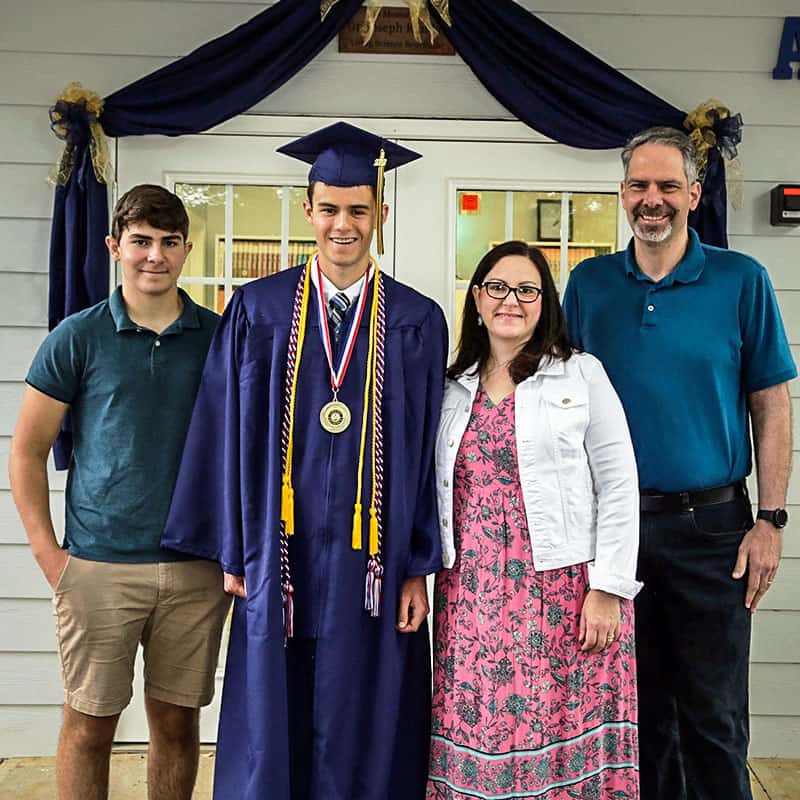 George ('96) and Christina ('96) Fox
Roswell, GA
What we love Most About Covenant:
"We love the Covenant College community. It is a tight-knit community of believers spurring one another on in faith and Christ-likeness."
Our Kids
Ethan: (Class of 2026) Business major. He is a cross country runner and lives in Maclellan Hall.
Ian: age 15, attends The King's Academy where he plays football and basketball. He is a Life Scout working toward his Eagle rank.
Our Jobs
George: VP of Mergers and Acquisitions for HealthPRO/Heritage, a company that provides physical, occupation, and speech therapy. He enjoys hiking and traveling.
Christina: Writer, retreat speaker, licensed counselor, and author of multiple books. She enjoys hiking, reading, and traveling.
---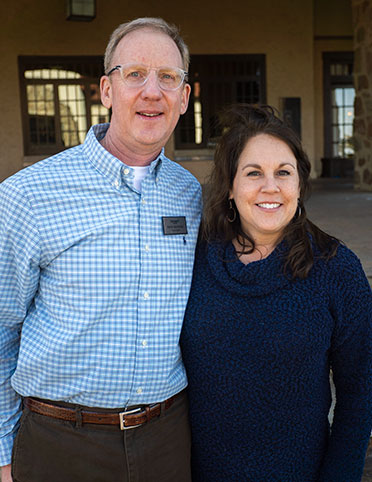 Phil ('90) and Becky ('90) Greninger
Cumming, GA
What we love Most About Covenant:
"Our fondness for Covenant began as students. We love that it is a place where students are challenged to grow not only academically, but also spiritually. We saw practically how to live a biblical worldview that emphasizes Christ's preeminence in all things. In a culture of compromise, the college has stood firmly on the foundation of biblical truth. Covenant fosters a deep sense of community; we have seen and can personally attest to the lifelong friendships that have been developed among like-minded young people."
Our Kids
Andrew: Pursuing a career in law enforcement
Kate: (Class of 2021) Sociology major. She lived in Carter Hall on 3rd Central, and she's currently working for a logistics company in Chattanooga
Molly: (Class of 2023) Elementary Education major. She also lived in Carter Hall on 3rd Central, and she's currently teaching at an elementary school in Chattanooga.
John: (Class of 2025) Business major. He lives in Carter Hall on 2nd South.
Our Jobs
Becky: Teaches 2nd grade after spending almost 20 years at home raising children. She enjoys reading suspense novels, theology, and educational books.
Phil: Cloud Solution Architect at CGI Technologies, Inc. who consults and designs enterprise IT solutions using cloud-based technologies. He enjoys a little swimming, biking, and running.
---
Dave and Andrea Haebig
Tampa, FL
What we love Most About Covenant:
"Covenant College is a place where your student can thrive and flourish. The rigorous academics prepare graduates well for their professional future, equipping them with critical thinking and effective communication. Lasting relationships are fostered with fellow students, professors, and administrators. Covenant's greatest strength, however, is their deep commitment to knowing and serving the Lord."
Our Kids
Hannah: (Class of 2022) Majored in political science and is currently studying Arabic in Jordan.
Caroline (Kiki): (Class of 2026) Plans to double major in economics and community development. She is also playing JV soccer.
Our Jobs
Andrea: Worked as an elementary school teacher before the girls were born. Then she had her dream job… homeschooling two of her favorite people! Andrea loves books and research as well as a great chess movie! Now that she has worked herself out of a job (the youngest is now at Covenant), she is excited to see what this next season brings.
Dave: Retired officer from the U.S. Army Special Forces. He currently works for the Department of Defense. Dave enjoys travel, outdoor adventure of all types, and exercise.
---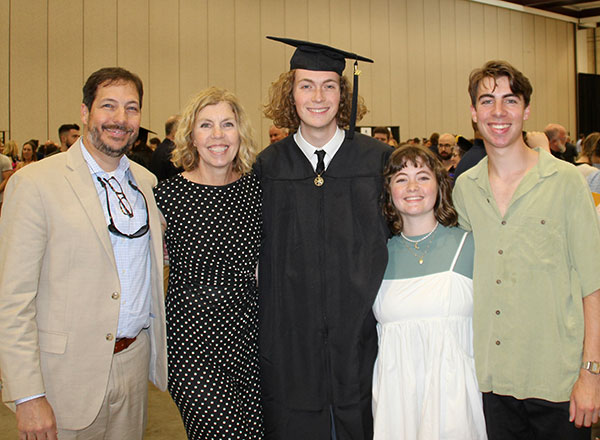 Jeff and Nancy Hooker
Athens, AL
What we love Most About Covenant:
"The thing we say to parents of prospective students (after the money discussion) is that Christ really is preeminent in all things - classroom, hall life, high view of the Lord's Day and emphasis on the church. In our experience, those aren't just words on a sign. Our children are growing spiritually as well as relationally and academically."
Our Kids
John: (Class of 2021) Graphic Design major. He spent his college years in Founders Hall on Catacombs, and now lives in Chattanooga where he's working several day jobs and pursuing a career as a musician and producer. He helps lead music at his church, Restoration Southside.
Lucas: (Class of 2023) Community Development major. He lived in Founders Hall on Catacombs, and currently lives in Chattanooga where he works full-time for TruShine. He is a member of New City East Lake.
Mary Liles: (Class of 2025) History major. She lives in Carter Hall on Fourth North. She attends New City East Lake.
Our Jobs
Jeff: PCA pastor/church planter. He enjoys traveling, hiking, Premier League soccer, coffee, music, and trying to cook almost everything on the Big Green Egg.
Nancy: Former elementary school teacher, and is currently an admin assistant, women's Bible study teacher, and artist. She enjoys walking, talking, traveling, reading, and art, and she's a little obsessed with tropical plants.
---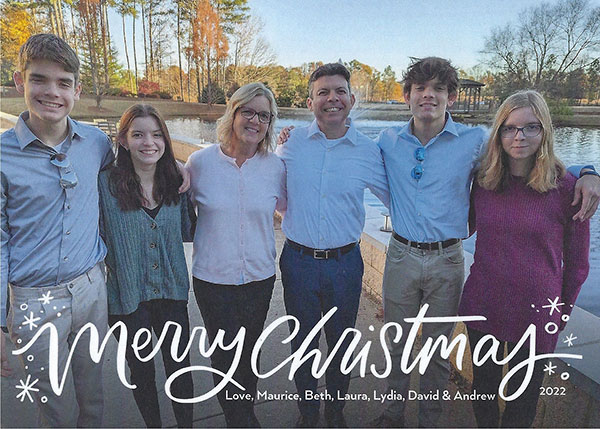 Maurice and Beth ('92) Perry
Wildwood, MO
What we love Most About Covenant:
"When Beth ('92) attended Covenant, she enjoyed the community–close friendships, access to professors, small classes, chapel and dorm life. After all these years, Covenant still provides these aspects of college life to students and so much more."
Our Kids
Laura: (Class of 2023) Working as a Spanish interpreter in a law office in St. Louis
Lydia: Taking ASL classes at local community college and working at Starbucks
David: (Class of 2027) Freshman at Covenant, Founders hall, business major
Andrew: 8th grade, loves basketball and Minecraft
Our Jobs
Maurice: Director of Investments with Ascension Investment Management. He enjoys playing chess, reading, sports and leading their small group Bible study.
Beth: Works at Chesterfield Presbyterian Church on the Children's Ministry team. She enjoys spending time with friends, cooking, reading, leading women's Bible studies and scrapbooking.
---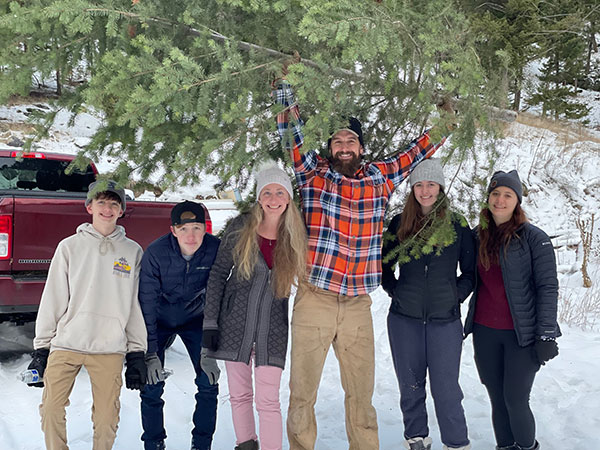 Peter and Kimberly ('98) Hansen
Kalispell, MT
What we love Most About Covenant:
"The two characteristics about Covenant College most appreciated by our family are the college's commitment to biblical authority christian worldview and the faculty's investment in students' lives."
Our Kids
Kelli Hansen: (Class of 2024) Majoring in International Studies with Community Development and French Minors, Student Ministry Coordinator, lives off-campus.
Leah Hansen: (Class of 2025) Majoring in International Studies with a minor in French, currently works in the AV department, played soccer and currently plays volleyball, lives on Harambe!
K. Jack Hansen: High school senior at Heritage Academy. He enjoys skiing, photography, hiking, and weightlifting.
Josh Hansen: High school sophomore at Heritage Academy. Enjoys playing the guitar, skiing, and weightlifting.
Our Jobs
Pete: Retired military aviator, current medical transport pilot/instructor pilot--avid hiker & skier.
Kim: Currently runs a small cupcake and cake decorating business and teaches Epideictic Rhetoric & Literature at Heritage Academy in Kalispell--enjoys hiking, swimming, and gardening.
---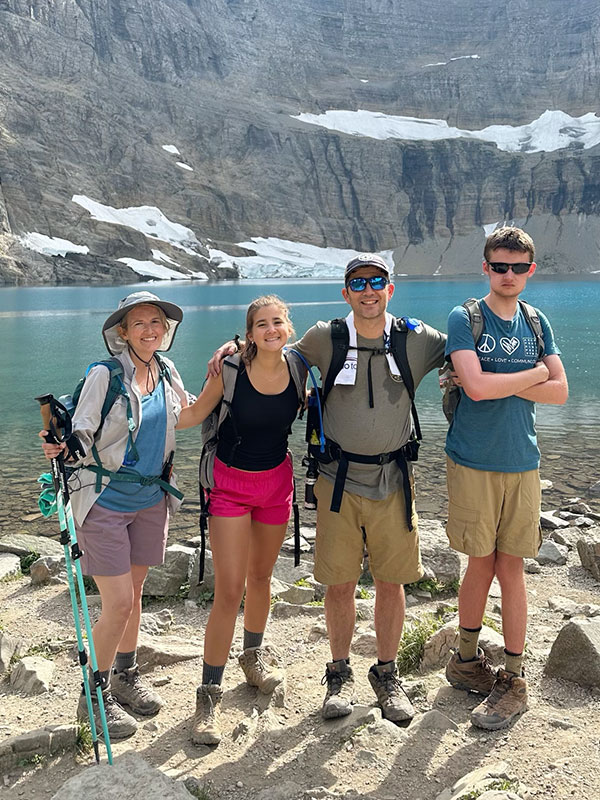 Jason & Meg ('94) Mages
Winter Park, FL
What we love Most About Covenant:
"Meg's family has over 40 years involved with Covenant College and we enjoy the foundational view of Scriptures, the blessing of deep relationships, and the practice of serving others to the glory of God. It is more than a college of great learning and growing. It is a Christ-centered community where the professors and staff walk alongside the students and the Lookout Mountain residents support the college with prayer and service. So, come to the Mountain to see and experience God's good work in the lives of His people."
Our Kids
Anna (Class of 2026): Art and History major and lives in Maclellan Hall.
Jonathan: is working towards finishing high school and plays the guitar and piano.
Our Jobs
Jason: in sales in promotional and print marketing who enjoys hiking, playing and watching all sports, traveling, serving the church and good food.
Meg: a homemaker, mom, CRP (Communication Regulation Partner) for Jonathan, and a lifelong supporter of Covenant College. She loves to travel, garden, hike, spend time with family and friends and growing in God's Word.
---
Sean and Angela Vereen
Chattanooga, TN
What we love Most About Covenant:
"We love the Community and the Christ-centered focus in every aspect of education and athletics."

Our Kids
Bricen (Grace): married in 2022, owns and operates a videography business in Franklin, TN
Ana: (Class of 2025) Education Major, part of the Volleyball Team
Ali: Freshman at Silverdale Baptist Academy, wants to go to school for International Business
Our Jobs
Sean: Wealth Manager. He enjoys fishing, golf and traveling.
Angela: High school bible/church history teacher. She enjoys traveling.
Undergraduate Departments, Majors, Minors, Certificates, Concentrations, and Programs
Arts Administration
Entrepreneurship
Environmental Stewardship & Sustainability
Journalism and Society
Medical Ethics Consultation
Neuroscience
Teaching English to Speakers of Other Languages (TESOL)
Art, 2-D Concentration
Art, 3-D Concentration
Art, Art History Concentration
Art, Graphic Design Concentration
Art, Photography Concentration
Art minor
Art History minor
Biblical & Theological Studies
Biblical & Theological Studies, Missions Concentration
Biblical & Theological Studies minor
Biblical Languages minor
History of Christianity minor
Missions minor
Youth Ministry minor
Biology, Biomedical Concentration
Biology, Environmental Concentration
Biology, General
Biology, Health Professions Concentration
Biology minor
Business
Business, Accounting Concentration
Business, Finance Concentration
Business, Marketing Concentration
Sport Management
Business minor
Sport Management minor
Chemistry, Biochemistry Concentration
Chemistry, General
Biochemistry minor
Chemistry minor
Computer Science
Computer Science minor
Community Development
Economics
Community Development minor
Economics minor
Education Studies
Elementary Education (P-5)
Secondary Education Certifications through MAT program
Education minor
Natural Science, Pre-Engineering Studies Concentration
English
English, Writing Concentration
English minor
Writing minor
History
History, Art History Concentration
Political Science
International Studies
History minor
Political Science minor
Interdisciplinary Studies with Concentrations
Mathematics
Mathematics minor
Music, Church Music Concentration
Music, Creative Studies Concentration
Music, General Music Concentration
Music, Instrumental Performance Concentration
Music, Music Education (Pre-MAT) Concentration
Music, Organ Performance Concentration
Music, Piano Pedagogy Concentration
Music, Piano Performance Concentration
Music, Vocal Performance Concentration
Music minor
Philosophy
Philosophy minor
Pre-Law Studies
Pre-Medical Studies
Pre-Nursing Studies
Pre-Physical Therapy Studies
Psychology
Psychology minor
Sociology
Sociology, Family Studies & Social Work Concentration
Sociology minor
French
Spanish
French minor
Spanish minor