Commencement
Commencement is a momentous occasion when we at Covenant join our graduates and their families and friends in celebrating the accomplishments of these last years, thanking God for His grace and provision, and looking ahead to His purposes in the lives of our graduates. At Covenant, we earnestly believe that the One "who began a good work in you will carry it on to completion until the day of Christ Jesus."
Commencement will be held at the Chattanooga Convention Center in downtown Chattanooga. Below you will find information on our upcoming commencement exercises and related events. We look forward to families and friends joining us for this celebration!
Celebration Concert
Thursday, May 2, 2019, 7:00 p.m.
Dora Maclellan Brown Memorial Chapel
Covenant College
The concert is free and open to the public.
Presidential Reception & Alumni Induction
Friday, May 3, 2019, 7:00-9:00 p.m.
Brock Lawn
Covenant College
Graduating seniors and their families are invited for fellowship and hors d'oeuvres. President Halvorson's remarks will begin at 7:30. Graduating seniors will receive their graduation mugs and learn more about the Alumni Office. In the event of rain, the reception will be held in the Great Hall. Invitations to graduating seniors are forthcoming. Shuttle services will be available during this event.
Graduate School of Education Luncheon
Saturday, May 4, 2019
Graduate students and their families are invited to this luncheon with the graduate faculty.
Invitations will be sent to graduates.
Covenant College's 64th Commencement
Saturday, May 4, 2019, 3:00 p.m.
Chattanooga Convention Center
1150 Carter Street
Chattanooga, TN 37401
Tickets are not required to attend commencement.
Event Parking: There will be $5.00 parking available in the parking garage shared by the Convention Center and the Marriott Hotel. The entrance to the parking garage is off of Carter Street, between the hotel and convention center. The hotel address is 2 Carter Plaza, Chattanooga, TN 37402. There will also be pay-by-meter parking on the surrounding streets.
Click here for hotel and bed & breakfast recommendations.
Commencement will be livestreamed at covenant.edu/stream.
Commencement Photography
Graduates participating in Covenant's 64th commencement will be photographed by GradImages. Once pictures are available, they can be ordered online, by phone, or by mail. GradImages can be contacted at 800.261.2576 or online. Graduates who use the pre-event registration option will be notified when proofs are ready to view.
Commencement Speaker: Dr. Kevin J. Eames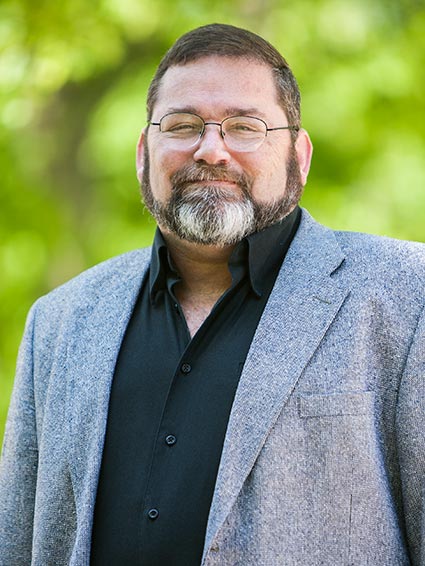 We are pleased to welcome our own Dr. Kevin J. Eames, professor of psychology, chair of the psychology department, and director of institutional effectiveness, as the speaker for our 64th annual commencement. Kevin earned a Bachelor of Arts in History from Florida State University, a Master's degree in Counseling and a Ph.D. in Counseling Psychology from Georgia State University.
After serving as the chief learning officer for ExecuTrain Corporation, he began his academic career at Dordt College in Sioux Center, IA, in 2001 where he served as assistant professor of psychology and director of the graduate education program. He moved to Covenant College in 2003 to administer a grant from the Lilly Endowment, then moved into the psychology department, where he remains stubbornly ensconced. He loves teaching and encouraging his students to think critically and creatively about the relationship between psychology and Christianity. His scholarly interests include human sexuality and the psychology of religion. His book The Cognitive Psychology of Religion was published by Waveland Press in 2016. Kevin and his wife Lisa live in Flintstone, GA, and are members of St. Elmo Presbyterian Church, where Kevin serves on the session. They have three children, Hillary (class of 2015), age 25, who works as a medical copywriter, Hannah, age 20, who works as a CrossFit trainer, and Daniel, who went to be with the Lord when he was 12.