Student Profile: Allison Andrews '23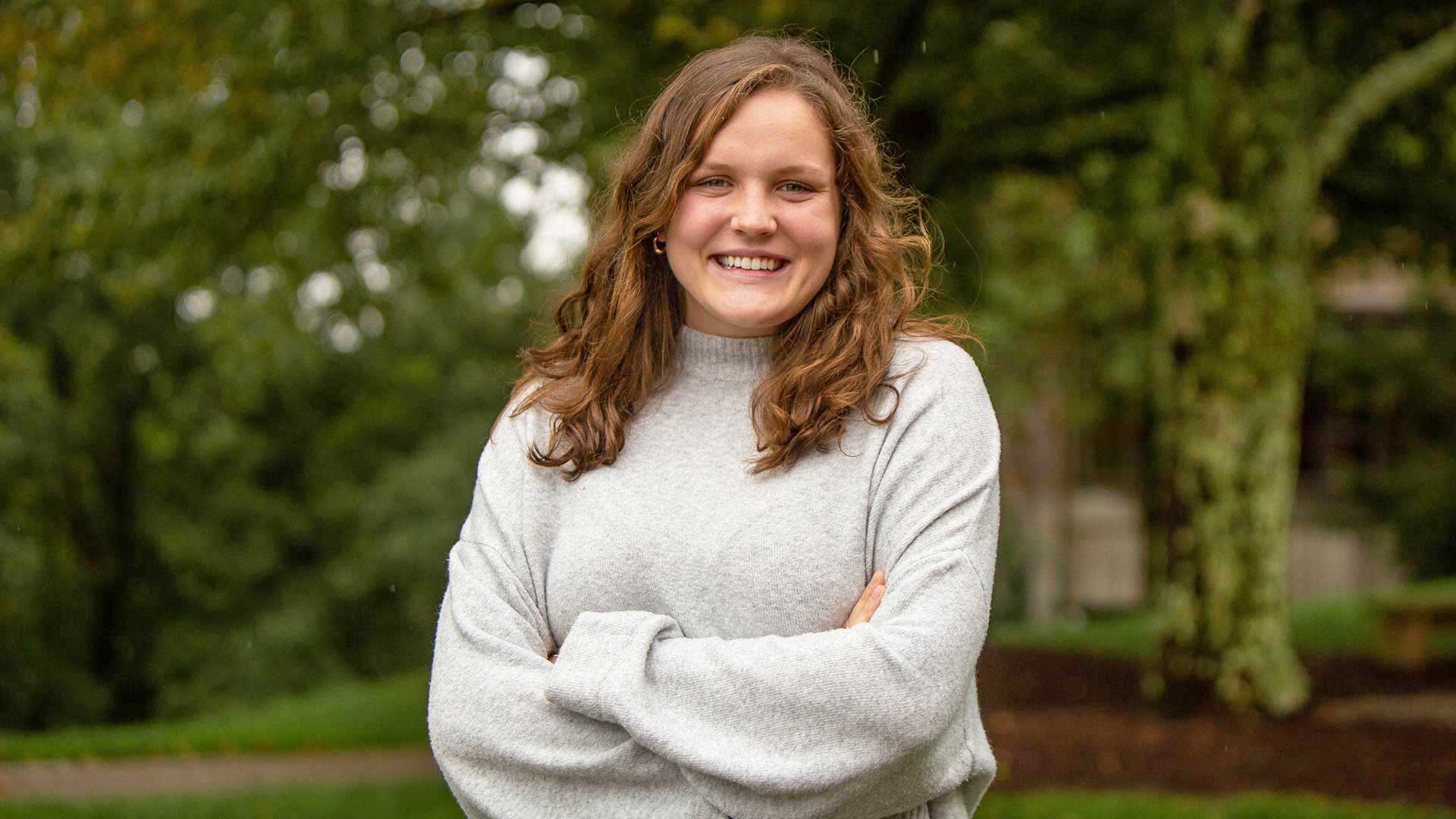 Class Year
2023
Where do you call home?
Ocala, FL
Major
English
Concentration
Education
Why did you choose Covenant?
I became interested in Covenant when two of my highschool teachers, Kat and Garrison, (Covenant alums who are also married to each other), began sharing their experience with me. They loved Covenant so much, and I wanted to be like them, so I decided to tour the college. Kat and Garrison got me on campus for a tour, but Covenant's community coupled with the academic rigor of the courses, access to professors, and beautiful location on Lookout Mountain made me choose to attend.
What aspect of Covenant do you like the best?
I love my hall and hall life in general. Living in the same space as 18-20 other college students is chaotic at times, but ultimately so much fun.
Which professor(s) has most impacted your thinking, and how?
In the few semesters that I have been on campus, Dr. Macallister and Dr. Madueme have impacted me greatly. Dr. Macallister possesses not a gimmicky fascination with literature, but an abiding love and appreciation for the texts that she teaches. Being a part of her classes has only solidified my love for English and affirmed my desire to teach it. As for Dr. Madueme, he has shifted my perspective of theology and taught me that the study of the Bible is not just for a specific category of academics, but it is a necessary practice for all Christians - including me.
What do you most enjoy about your major?
I love being an English major because I love the professors in the English department. Every good and smart thing that I can only dream of stuttering through, they articulate beautifully and graciously.
What do you hope to pursue after graduation?
After undergrad, I have plans to enroll in the MAT program at Covenant to get my master's degree in teaching and eventually become a high school English teacher.
How is Covenant preparing you for success in your calling?
Covenant's Center for Calling & Career is extremely helpful in preparing students for career success after graduation. They revise resumes, counsel students through difficult decisions, and also host the Job Fair. Covenant believes in prayerful petition, but also in tangible action steps that put students on a path to achieving their goals (both are necessary in this walk).
How is Covenant equipping you for active membership in the church?
Covenant presents a very well-rounded picture of what it looks like to be an active member in the church. In all aspects of the Covenant College experience, a mixture of right belief and right practice is presented as necessary to the Christian walk. From academic practices to residence life activities, the college pushes students to deepen their faith by knowing what they believe and putting it into practice.
In what ways does Covenant foster spiritual growth?
Covenant creates settings in which spiritual growth can occur and gives access to people who can give individual counsel to students regarding their faith.
How does residence life add to/support your academic, professional, and/or spiritual development?
Living on a hall with other people that are striving to be good students is extremely helpful. Study sessions abound because this common goal unites us.
Name one or two people in the Covenant community that have most impacted you and explain how they've shaped you.
Both of my RAs, Gabby Logan and Cammie Messer, have blessed me immensely in my time here. Gabby shepherded me through the transition from highschool into fall semester of my freshman year and loved me so well through it all. And Cammie Messer, my current RA and friend, consistently brings me joy and points me back to the Lord. I could not be more thankful for either of them.
How have your relationships at Covenant shaped your expectations for the other communities God will call you to in life?
The practice of honest communication and conflict resolution has given an accurate picture of what healthy, adult friendships are like. Good relationships anywhere are never easy; however, the friendships that I have made at Covenant have helped me realize that conflict is not bad and that talking about hard things is necessary in order to make lasting connections.
What's your favorite way to spend free time on and/or off campus?
Like any predictable Covenant College student, I love a good coffee shop and frequent them whenever money permits.
What's your favorite Covenant College event and why?
I have really enjoyed Conversations on Race and Culture this year. The topics and following conversations are, at times, difficult to hear and participate in, but the Multicultural Program does a great job of creating a gracious atmosphere. I also really love Kilter, our Sadie Hawkins dance.
Undergraduate Departments, Majors, Minors, Certificates, Concentrations, and Programs
Arts Administration
Entrepreneurship
Environmental Stewardship & Sustainability
Journalism and Society
Medical Ethics Consultation
Neuroscience
Teaching English to Speakers of Other Languages (TESOL)
Art, 2-D Concentration
Art, 3-D Concentration
Art, Art History Concentration
Art, Graphic Design Concentration
Art, Photography Concentration
Art minor
Art History minor
Biblical & Theological Studies
Biblical & Theological Studies, Missions Concentration
Biblical & Theological Studies minor
Biblical Languages minor
History of Christianity minor
Missions minor
Youth Ministry minor
Biology, Biomedical Concentration
Biology, Environmental Concentration
Biology, General
Biology, Health Professions Concentration
Biology minor
Business
Business, Accounting Concentration
Business, Finance Concentration
Business, Marketing Concentration
Sport Management
Business minor
Sport Management minor
Chemistry, Biochemistry Concentration
Chemistry, General
Biochemistry minor
Chemistry minor
Computer Science
Computer Science minor
Community Development
Economics
Community Development minor
Economics minor
Education Studies
Elementary Education (P-5)
Secondary Education Certifications through MAT program
Education minor
Natural Science, Pre-Engineering Studies Concentration
English
English, Writing Concentration
English minor
Writing minor
History
History, Art History Concentration
Political Science
International Studies
History minor
Political Science minor
Interdisciplinary Studies with Concentrations
Mathematics
Mathematics minor
Music, Church Music Concentration
Music, Creative Studies Concentration
Music, General Music Concentration
Music, Instrumental Performance Concentration
Music, Music Education (Pre-MAT) Concentration
Music, Organ Performance Concentration
Music, Piano Pedagogy Concentration
Music, Piano Performance Concentration
Music, Vocal Performance Concentration
Music minor
Philosophy
Philosophy minor
Pre-Law Studies
Pre-Medical Studies
Pre-Nursing Studies
Pre-Physical Therapy Studies
Psychology
Psychology minor
Sociology
Sociology, Family Studies & Social Work Concentration
Sociology minor
French
Spanish
French minor
Spanish minor