Student Profile: Viona Okwii Brown '22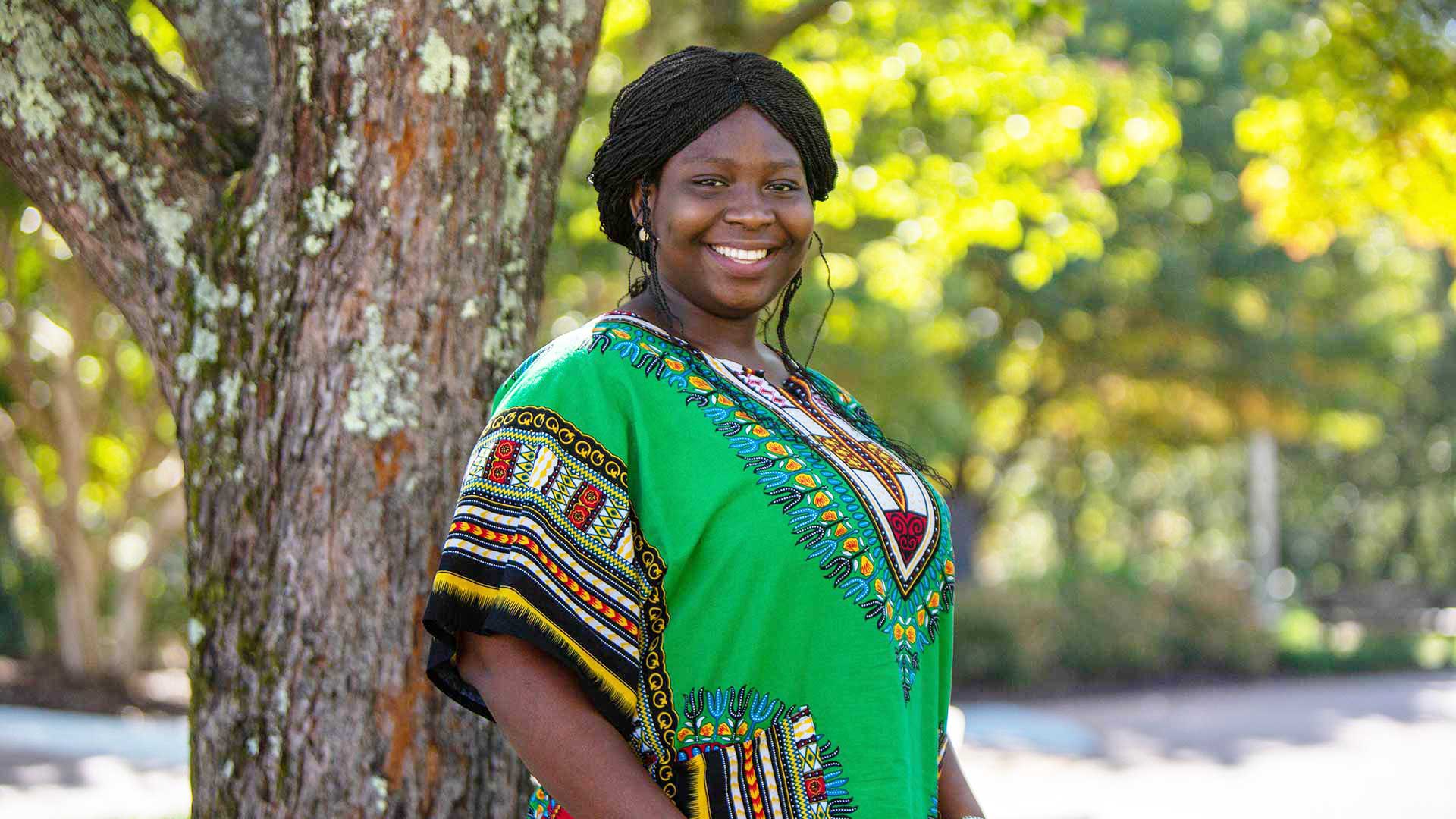 Class Year
2022
Where do you call home?
Jos, Plateau State, Nigeria
Major
Biology
Concentration
Biomedical
Why did you choose Covenant?
I chose Covenant because of its Christian tradition and the amazing faculty and great laboratory facilities, which are a huge plus for my major. I wanted the combination of a quality education and strong Christian values.
What aspect of Covenant do you like the best?
I enjoy being a part of the Multicultural Program, which has given me the opportunity to interact with people from diverse cultural backgrounds and participate in many events across the campus. I also enjoy the hall/residence life in which I have found a great community.
Which professor(s) has most impacted your thinking, and how?
Dr. Madueme and Dr. Kapic have been quite influential in my thought development through my years at Covenant. Engaging with Dr. Madueme in his Doctrine class and with Dr. Kapic over lunch and discussing theological issues has helped me develop stronger beliefs and a willingness to engage in theological discussions.
What do you most enjoy about your major?
I enjoy the laboratory sessions. They are great opportunities to put theories into practice.
How is Covenant preparing you to apply your area of study to post-college life?
Through classes at Covenant, I have learned that my life as a student and professional is interwoven with my Christian beliefs. The two are not mutually exclusive. As I plan towards life after college, I am assured that my professional life will be an avenue where Christ shines through me. Also, to help prepare us for our careers, the biology department and the Tri-Beta Club host panels and invite professionals to speak.
What do you hope to pursue after graduation?
After Covenant, I hope to go to med school to pursue a specialization in obstetrics and gynecology.
How is Covenant preparing you for success in your calling?
Covenant is teaching me to be a responsible adult who is financially wise, tech savvy, and relationally grounded while being a diligent student who is committed to honouring God through my life. Covenant is also preparing me for leadership. I have taken up some leadership roles on campus which have taught me to be more responsible.
How is Covenant equipping you for active membership in the church?
By not having a church on campus, Covenant encourages students to actively plug into local Bible-believing churches. Since coming to Covenant, I've joined Lookout Mountain Presbyterian Church (LMPC) and I've been a member of the choir/ensemble in the traditional service.
In what ways does Covenant foster spiritual growth?
The chapel services are awesome. The chapel department does a really great job of bringing speakers who teach the Word to campus. Prayer and praise (P & P), which happened every Sunday when I lived on campus, was a great devotional time to fellowship with girls on my hall or people in my dorm during "All Building P & P." Covenant's Bible classes like New Testament and Doctrine I & II help a student know more about God and wrestle with doctrines fundamental to Christianity.
How does residence life add to/support your academic, professional, and/or spiritual development?
I lived on a hall for two years, and I am grateful for the girls I got to know. They encouraged me to study when I felt lazy, to rest when I felt overwhelmed, to remember that I am a queen when I felt less than that. Harambe! (my hall) and Mac (my dorm) provided a great community with friendships that I will treasure for a long while.
How have your relationships at Covenant shaped your expectations for the other communities God will call you to in life?
Coming to Covenant as an international student gave me the opportunity to get to know many people (faculty, staff, and students) who come from diverse backgrounds, which is a representation of the world outside of Covenant. I have developed a better understanding of cultural differences and how to relate with people who are different than me.
What's your favorite way to spend free time on and/or off campus?
When I am not doing schoolwork, I enjoy burying myself in a good book or listening to music/singing. I also enjoy hanging out with friends, going to coffee shops or restaurants down the mountain to share a meal, and going shopping.
What's your favorite Covenant College event and why?
Culture Fest is my all-time favorite event. It's an event where we celebrate all the cultures represented in our community, and it's full of music, dancing, poetry, and food. I have participated in it every year, and I feel honored to share my culture with others while also sharing in and developing a deep appreciation for other people's cultures.
Undergraduate Departments, Majors, Minors, Certificates, Concentrations, and Programs
Arts Administration
Entrepreneurship
Environmental Stewardship & Sustainability
Journalism and Society
Medical Ethics Consultation
Neuroscience
Teaching English to Speakers of Other Languages (TESOL)
Art, 2-D Concentration
Art, 3-D Concentration
Art, Art History Concentration
Art, Graphic Design Concentration
Art, Photography Concentration
Art minor
Art History minor
Biblical & Theological Studies
Biblical & Theological Studies, Missions Concentration
Biblical & Theological Studies minor
Biblical Languages minor
History of Christianity minor
Missions minor
Youth Ministry minor
Biology, Biomedical Concentration
Biology, Environmental Concentration
Biology, General
Biology, Health Professions Concentration
Biology minor
Business
Business, Accounting Concentration
Business, Finance Concentration
Business, Marketing Concentration
Sport Management
Business minor
Sport Management minor
Chemistry, Biochemistry Concentration
Chemistry, General
Biochemistry minor
Chemistry minor
Computer Science
Computer Science minor
Community Development
Economics
Community Development minor
Economics minor
Education Studies
Elementary Education (P-5)
Secondary Education Certifications through MAT program
Education minor
Natural Science, Pre-Engineering Studies Concentration
English
English, Writing Concentration
English minor
Writing minor
History
History, Art History Concentration
Political Science
International Studies
History minor
Political Science minor
Interdisciplinary Studies with Concentrations
Mathematics
Mathematics minor
Music, Church Music Concentration
Music, Creative Studies Concentration
Music, General Music Concentration
Music, Instrumental Performance Concentration
Music, Music Education (Pre-MAT) Concentration
Music, Organ Performance Concentration
Music, Piano Pedagogy Concentration
Music, Piano Performance Concentration
Music, Vocal Performance Concentration
Music minor
Philosophy
Philosophy minor
Pre-Law Studies
Pre-Medical Studies
Pre-Nursing Studies
Pre-Physical Therapy Studies
Psychology
Psychology minor
Sociology
Sociology, Family Studies & Social Work Concentration
Sociology minor
French
Spanish
French minor
Spanish minor