Student Profile: Baylie Sims '22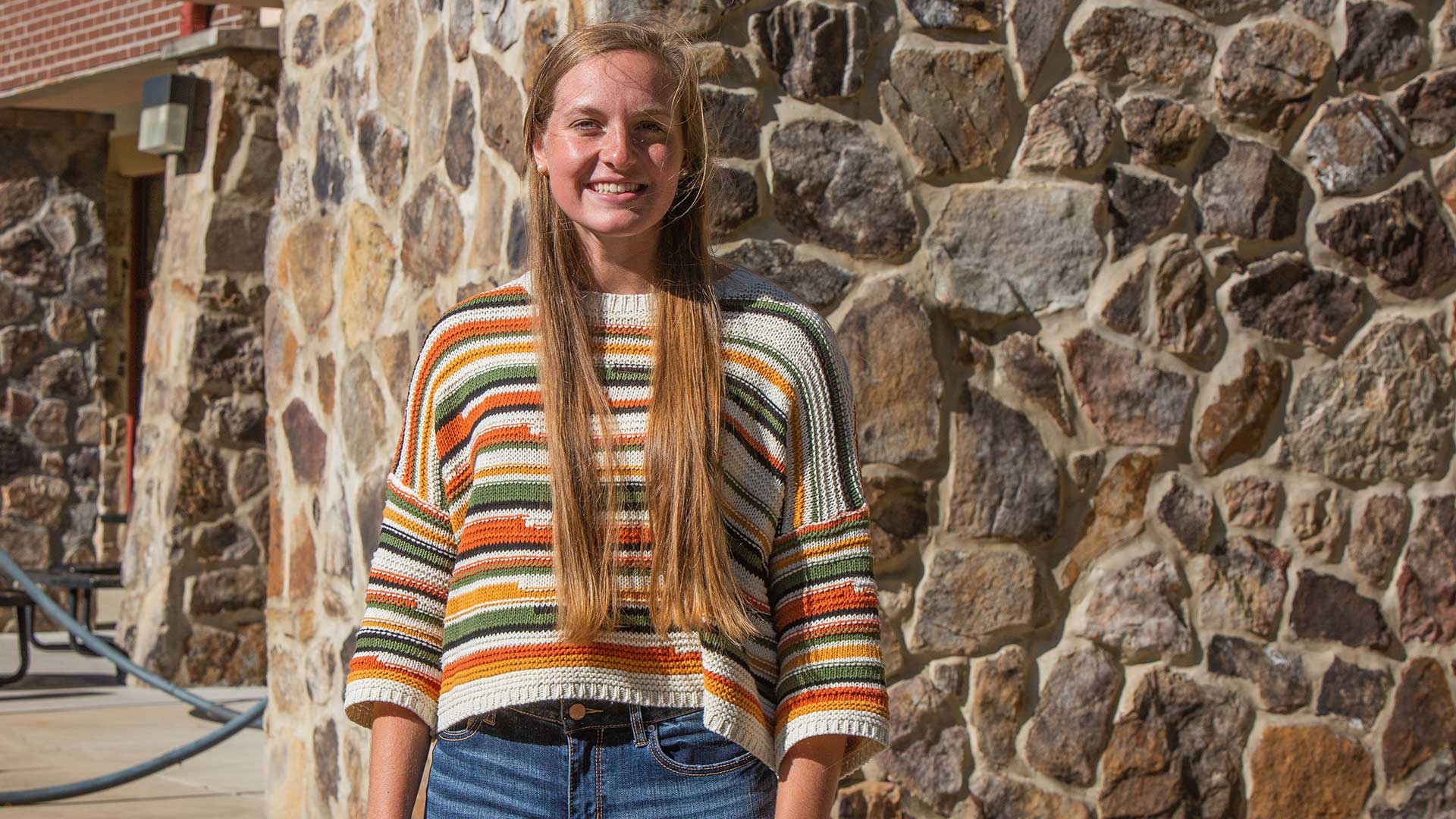 Class Year
2022
Where do you call home?
Haleyville, AL
Majors
Business & Community Development
Minor
Missions
If you visited campus before enrolling, what stood out to you the most about Covenant?
I visited campus my senior year of high school. As soon as I stepped on campus, I remember feeling very welcomed because everybody was so friendly and made me feel at home. My tour guide and the students I talked to were very willing to help and provided a glimpse into Covenant's genuine community.
Why did you choose Covenant?
I chose Covenant because I was recruited for softball, but I knew it would be a place to challenge myself academically and spiritually. Covenant provides an excellent education that I knew would prepare me for the real world in both my future career and life. Ultimately, Covenant was the one place that kept coming up in conversation, and I knew it was where I was meant to be.
What aspect of Covenant do you like the best?
I love the small faculty to student ratio! The professors at Covenant genuinely care about us as students, but they also want to get to know us. Many professors like to have classes over for a home-cooked meal or even go on a hike with students. It is very encouraging to see your professors on campus and they know your name.
Which professor(s) has most impacted your thinking, and how?
Dr. Fikkert and Mr. C have impacted my thinking in so many ways. They have shown me how to approach different cultures in a way that is helpful rather than harmful. Dr. Quatro has challenged me to have hard conversations about the purpose of business and to think about ethical situations from a Christian perspective.
What do you most enjoy about your majors?
My favorite part about my double major is being able to apply the material I learn in my business classes to my community development classes, and vice versa. Although they are very different approaches, I enjoy being able to integrate them into all of my classes. Furthermore, the professors for both departments are incredibly knowledgeable and have firsthand experience that they share with us.
What do you hope to pursue after graduation?
I would love to pursue working internationally with orphanages and vulnerable children programs or work for the marketing department of a nonprofit organization!
How is Covenant preparing you for success in your calling?
As someone who wants to work internationally, Covenant has not only connected me with several programs and organizations, but has also taught me how to enter into a culture respectfully and how to apply a Christian worldview appropriately.
How is Covenant equipping you for active membership in the church?
Covenant has taught me the importance of a close-knit community, small or large. I have discovered the importance of having a close group to not only hold me accountable, but also push me to dive deeper into my relationship with the Lord.
In what ways does Covenant foster spiritual growth?
Covenant fosters spiritual growth in a variety of ways. The one that stands out to me the most is Prayer and Praise. We have it every Sunday in our residence halls, and it is a time to grow closer together as a hall. It is a special opportunity to be vulnerable with each other and grow together. We share our testimonies, read through a book of the Bible, and share our own stories of how we've seen God working in our lives during this time.
How does residence life add to/support your academic, professional, and/or spiritual development?
I have lived in Andreas Hall on Imani the past three years. Residence life at Covenant has provided me with a supportive community to learn and grow in. We have a wide variety of majors on the hall, and the girls are very eager to engage in discussion or answer any questions. I remember a few upperclassmen on my hall were a tremendous help to me during freshman year because they were willing to answer any questions I had about how to study and adapt to college.
How have your relationships at Covenant shaped your expectations for the other communities God will call you to in life?
Covenant is a very special place, and I wholeheartedly do not believe there is another college campus that could match the community we have here. My time at Covenant has shaped my expectations by showing me the importance of having relationships that challenge and encourage me. My friends have pushed me to talk through hard topics and learn from other's experiences, and I know God will continue to surround me with people to challenge me and help me grow like those whom I have met at Covenant.
What's your favorite way to spend free time on and/or off campus?
My favorite way to spend free time is to go hiking with my friends! There are so many trails on the mountain and around Chattanooga. I think one of my favorite places is Snooper's Rock. I also love visiting all the different coffee shops and enjoying a cup of coffee with friends.
What's your favorite Covenant College event and why?
My favorite Covenant event is Mistletoe Mingle! It's the perfect way to take a break in the midst of a busy week of finals and just have fun with your friends. It's also a silent disco, so it's super fun to change the station whenever you want to.
Undergraduate Departments, Majors, Minors, Certificates, Concentrations, and Programs
Arts Administration
Entrepreneurship
Environmental Stewardship & Sustainability
Journalism and Society
Medical Ethics Consultation
Neuroscience
Teaching English to Speakers of Other Languages (TESOL)
Art, 2-D Concentration
Art, 3-D Concentration
Art, Art History Concentration
Art, Graphic Design Concentration
Art, Photography Concentration
Art minor
Art History minor
Biblical & Theological Studies
Biblical & Theological Studies, Missions Concentration
Biblical & Theological Studies minor
Biblical Languages minor
History of Christianity minor
Missions minor
Youth Ministry minor
Biology, Biomedical Concentration
Biology, Environmental Concentration
Biology, General
Biology, Health Professions Concentration
Biology minor
Business
Business, Accounting Concentration
Business, Finance Concentration
Business, Marketing Concentration
Sport Management
Business minor
Sport Management minor
Chemistry, Biochemistry Concentration
Chemistry, General
Biochemistry minor
Chemistry minor
Computer Science
Computer Science minor
Community Development
Economics
Community Development minor
Economics minor
Education Studies
Elementary Education (P-5)
Secondary Education Certifications through MAT program
Education minor
Natural Science, Pre-Engineering Studies Concentration
English
English, Writing Concentration
English minor
Writing minor
History
History, Art History Concentration
Political Science
International Studies
History minor
Political Science minor
Interdisciplinary Studies with Concentrations
Mathematics
Mathematics minor
Music, Church Music Concentration
Music, Creative Studies Concentration
Music, General Music Concentration
Music, Instrumental Performance Concentration
Music, Music Education (Pre-MAT) Concentration
Music, Organ Performance Concentration
Music, Piano Pedagogy Concentration
Music, Piano Performance Concentration
Music, Vocal Performance Concentration
Music minor
Philosophy
Philosophy minor
Pre-Law Studies
Pre-Medical Studies
Pre-Nursing Studies
Pre-Physical Therapy Studies
Psychology
Psychology minor
Sociology
Sociology, Family Studies & Social Work Concentration
Sociology minor
French
Spanish
French minor
Spanish minor