Student Profile: Cameron Cortman '22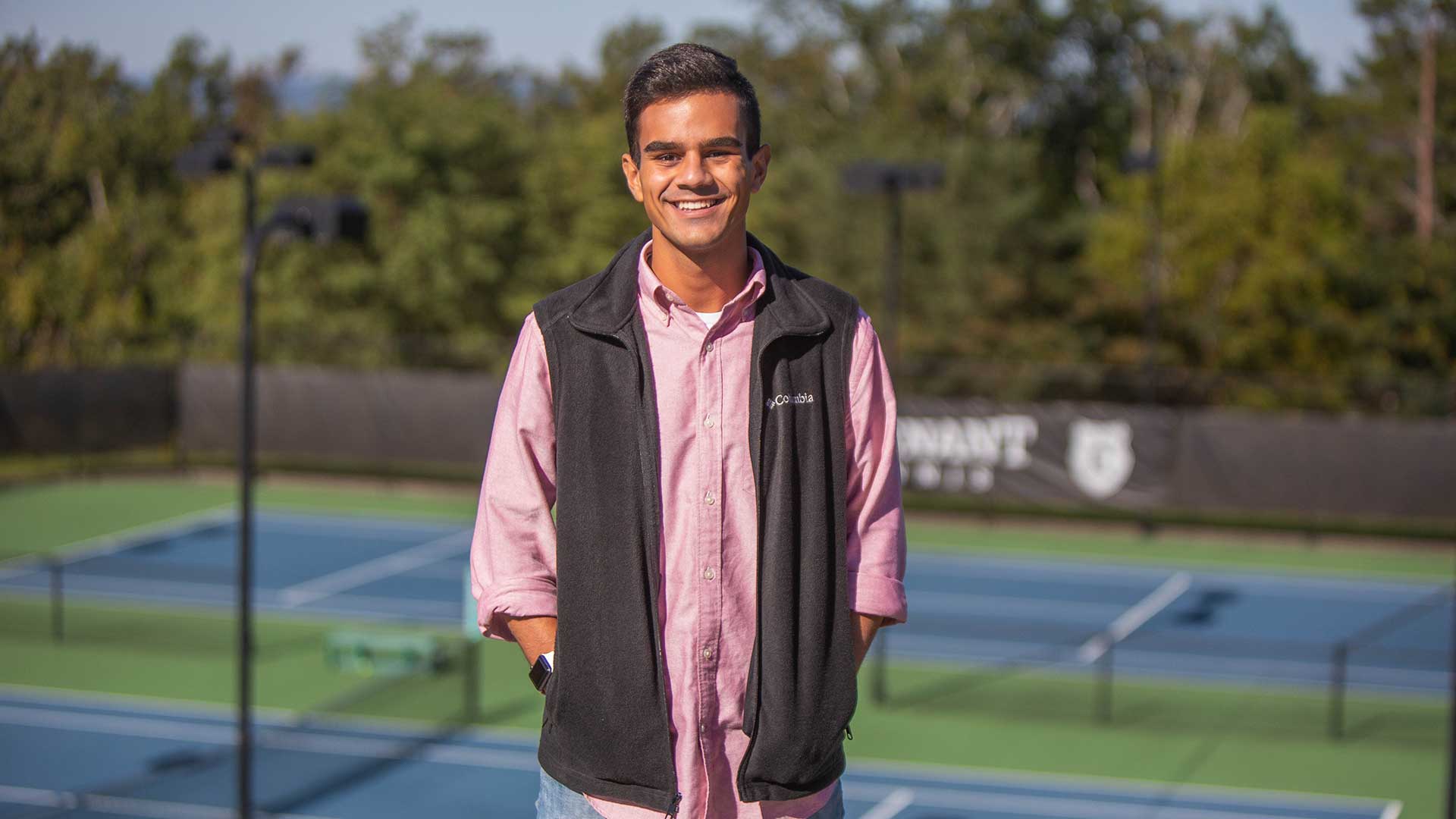 Class Year
2022
Where do you call home?
Dacula, GA
Major/Concentration
Business/Marketing
Why did you choose Covenant?
When I visited campus, I was immediately overtaken by a feeling of home. I walked around the campus and was greeted by so many faculty and students who did not even know me but took the time out of their busy schedules to start conversations with me. There was a sense of warmth and joy that filled this place that no other college has.
What aspect of Covenant do you like the best?
The community at Covenant is so unlike any other place I have been. Having people in my life who constantly challenge and push me to become better in every area of life is something that I didn't know I needed until I got here. Whether it is the coaches, professors, or fellow students, everyone fulfills a commitment to calling each other to a higher standard, and for that, I am genuinely grateful.
Which professor(s) has most impacted your thinking, and how?
Dr. Quatro and Professor Matos-Wood are professors in the business department that have both impacted my thinking greatly. I am currently taking Business Ethics with Quatro in which he constantly challenges us with what it looks like to be a Christian in the realm of business. Both of these professors are shaping my thinking by providing real-life applications of topics in business while incorporating our higher calling to them.
What do you most enjoy about your major?
Business is a very practical major. At Covenant, I have loved how my professors incorporate their professional experiences in the business realm into the classroom. It makes the concepts easier to understand and more desirable to learn when you know that they are actually used in the business world.
What do you hope to pursue after graduation?
After graduation, I would love to work in brand marketing and brand management. I would love to do this for an athletic brand specifically, as athletics have been a major part of my life for almost my entire life.
How is Covenant preparing you for success in your calling?
The first week at Covenant, every freshman listens to a lecture from Dr. Halvorson about their calling in life. He discusses our "little c" calling, which is unique to every Christian and involves their career. Covenant has prepared me for success in my calling by teaching me and showing me that a career is not just about the money you make or earthly success, but it is about working hard in order to glorify your Heavenly Father. One of my favorite verses is Colossians 3:23 which states, "Whatever you do, work at it with all your heart, as if you are serving the Lord, not man."
How is Covenant equipping you for active membership in the church?
Through chapel, hall Bible studies, and small groups on athletic teams, Covenant emphasizes the importance of corporate worship. Having the entire campus gather in the chapel sanctuary and lift our praises to God through worship, prayer, and teaching is an essential part of the Christian faith, which I have learned during my time at Covenant.
In what ways does Covenant foster spiritual growth?
The faculty and students alike place an extremely high value on discipleship. At Covenant, you are challenged yet encouraged in many areas of your faith. You are seen as more than just a student; you are a fellow image-bearer. The mentality of growing together and pushing each other is something that is so prevalent at Covenant.
How does residence life add to/support your academic, professional, and/or spiritual development?
Residence life is one of the many things that sets Covenant apart from other institutions. At Covenant, hallmates are dedicated to helping you succeed in every aspect. Doing homework and studying with hallmates and having them help me with material I've been working to grasp has been a blessing to me. Everyone on the hall understands the importance of development academically and spiritually, yet they also understand the importance of rest and fun. Residence life provides the perfect balance between having fun and working hard.
How have your relationships at Covenant shaped your expectations for the other communities God will call you to in life?
The relationships I've built at Covenant have shown me what authentic friendships that push me to be better in every area of life look like. Surrounding myself with people who will not sit back and allow me to fall short is something that I want for the rest of my life.
What's your favorite way to spend free time on and/or off campus?
One of the major benefits of attending Covenant is the perfect location. Lookout Mountain has incredible views, and hiking the numerous trails and overlooks has become one of my favorite things to do. Whether hiking to a waterfall and swimming hole or watching the sunset on an overlook, the views here never get old. One of the other benefits is the closeness to the city of Chattanooga. Chattanooga is filled with incredible restaurants, and nothing beats walking across the bridge over the river after you just got ice cream from the Ice Cream Show. On campus, you can almost always find me playing ping pong, cornhole, or spikeball with my friends.
Undergraduate Departments, Majors, Minors, Certificates, Concentrations, and Programs
Arts Administration
Entrepreneurship
Environmental Stewardship & Sustainability
Journalism and Society
Medical Ethics Consultation
Neuroscience
Teaching English to Speakers of Other Languages (TESOL)
Art, 2-D Concentration
Art, 3-D Concentration
Art, Art History Concentration
Art, Graphic Design Concentration
Art, Photography Concentration
Art minor
Art History minor
Biblical & Theological Studies
Biblical & Theological Studies, Missions Concentration
Biblical & Theological Studies minor
Biblical Languages minor
History of Christianity minor
Missions minor
Youth Ministry minor
Biology, Biomedical Concentration
Biology, Environmental Concentration
Biology, General
Biology, Health Professions Concentration
Biology minor
Business
Business, Accounting Concentration
Business, Finance Concentration
Business, Marketing Concentration
Sport Management
Business minor
Sport Management minor
Chemistry, Biochemistry Concentration
Chemistry, General
Biochemistry minor
Chemistry minor
Computer Science
Computer Science minor
Community Development
Economics
Community Development minor
Economics minor
Education Studies
Elementary Education (P-5)
Secondary Education Certifications through MAT program
Education minor
Natural Science, Pre-Engineering Studies Concentration
English
English, Writing Concentration
English minor
Writing minor
History
History, Art History Concentration
Political Science
International Studies
History minor
Political Science minor
Interdisciplinary Studies with Concentrations
Mathematics
Mathematics minor
Music, Church Music Concentration
Music, Creative Studies Concentration
Music, General Music Concentration
Music, Instrumental Performance Concentration
Music, Music Education (Pre-MAT) Concentration
Music, Organ Performance Concentration
Music, Piano Pedagogy Concentration
Music, Piano Performance Concentration
Music, Vocal Performance Concentration
Music minor
Philosophy
Philosophy minor
Pre-Law Studies
Pre-Medical Studies
Pre-Nursing Studies
Pre-Physical Therapy Studies
Psychology
Psychology minor
Sociology
Sociology, Family Studies & Social Work Concentration
Sociology minor
French
Spanish
French minor
Spanish minor